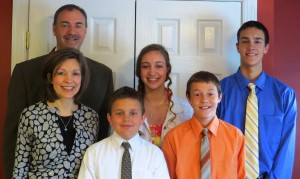 Jeff Ehko was raised in a Christian home and placed his trust in Christ at the age of 10. He  more fully surrendered his life to Christ at the age of 18 and the Lord called him to be a pastor  several months later while serving at a Christian camp. He graduated in 1993 from Philadelphia  College of the Bible (presently Cairn University) with a BS in Bible/Pastoral Studies and earned  a Master of Divinity degree from Seminary of the East (presently Bethel Seminary of the East) in 1999. He previously served as the pastor of Greencastle Bible Church for 13 years and has been serving as pastor of Cornerstone Bible Church since 2006.
He is married to Valerie and they have four children (Joshua, Stephanie, Nicholas , and Timothy). Valerie also graduated from Philadelphia College of Bible with a BS in Bible and a BS in Music Education. She is currently serving the Lord as a homeschooling mother and private piano teacher. She is also intricately involved in the music ministry and youth ministry at the church.
Jeff's favorite book of the Bible is the one that he is teaching through on any given Sunday.  
In his spare time Jeff enjoys fishing and playing golf.